Eastwood Veterinarian Hospital, under the direction of Dr. Kenneth A Holmberg, first opened its doors in 1984. The wisdom, vision, commitment and hard work of Dr. Holmberg and his staff paved the way to our present facility and helped us become one of the most respected practices in the area. With unwavering commitment to the health and well being of our client's pets, we are still going strong and continue to offer high quality animal care.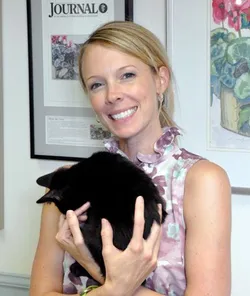 In May of 2015 Dr. Holmberg decided to hang up his stethescope and retire so he could spend more time with his wife, children, and grandkids. The clinic was left in Dr. Rebecca Smyka's trusted hands.
Rebecca is a 2008 graduate of Purdue University College of Veterinary Medicine. In the past she has worked as an emergency veterinarian but for the last 5 years she has worked as small animal vet in Lansing. She grew up in the small town of Clayton, North Carolina but moved to Michigan when her husband started veterinary school at Michigan State University. They have two children under three, Nora and Phil Jr. It is a busy and crazy house with their young kids, German Shorthaired Pointer Otto, and rabbit Cruz. In her free time she loves to spend time with her kids in the garden, eat North Carolina BBQ, and indulge in southern sweet tea.